The boys picked up the dub last night against the Shamrocks! Congrats to Troy Popplewell for being selected as the Winner's Circle-North Player of the Game! #WarriorStrong Credit: Kole Emerson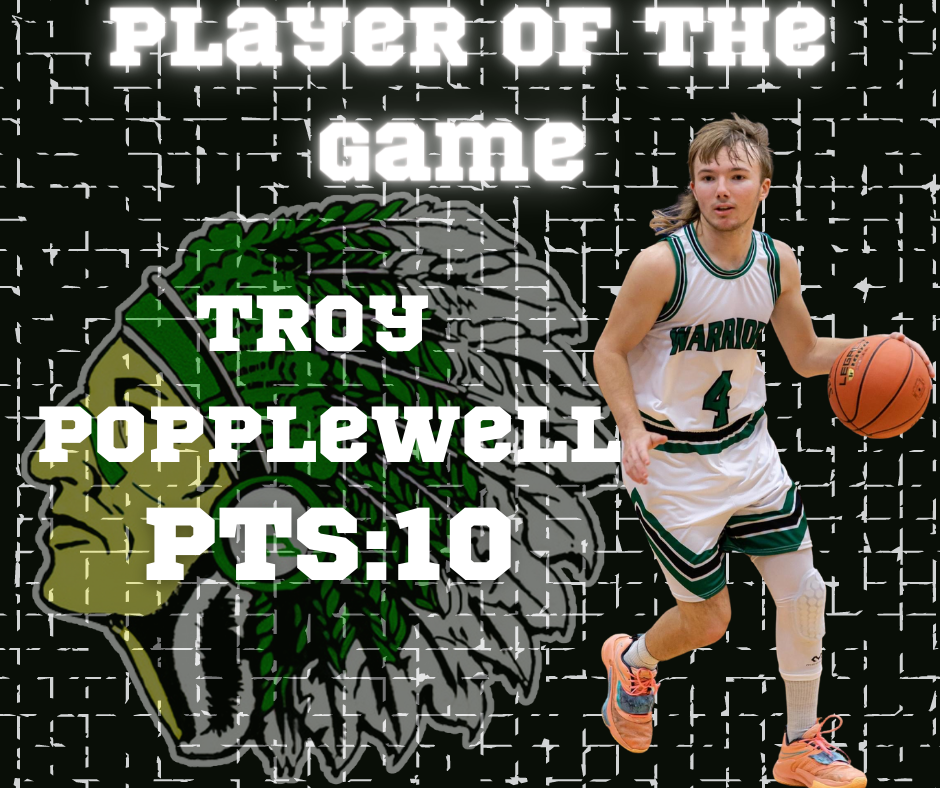 Congrats to the Lady Warriors on their big win last night! Jordyn Sterkis was selected as the Winner's Circle-North Player of the Game! #WarriorStrong Credit: Troy Popplewell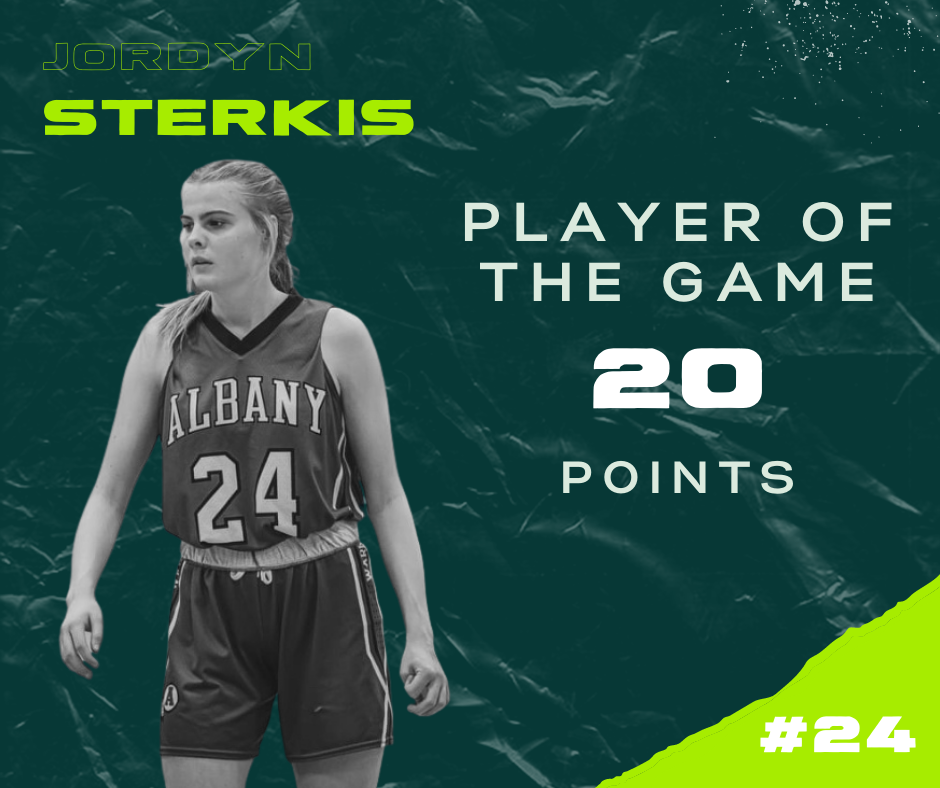 Winter Sports Homecoming Week! 2/2 Thursday- Snap, Crackle & Pop. Find two friends and dress as triplets.

Reminder: Seniors will be recognized before the varsity boys game. Please meet Becky in the commons after the girl's game.

Winter Sports Senior Night tonight vs North Harrison. JV starts @ 5:30PM. Go Warriors!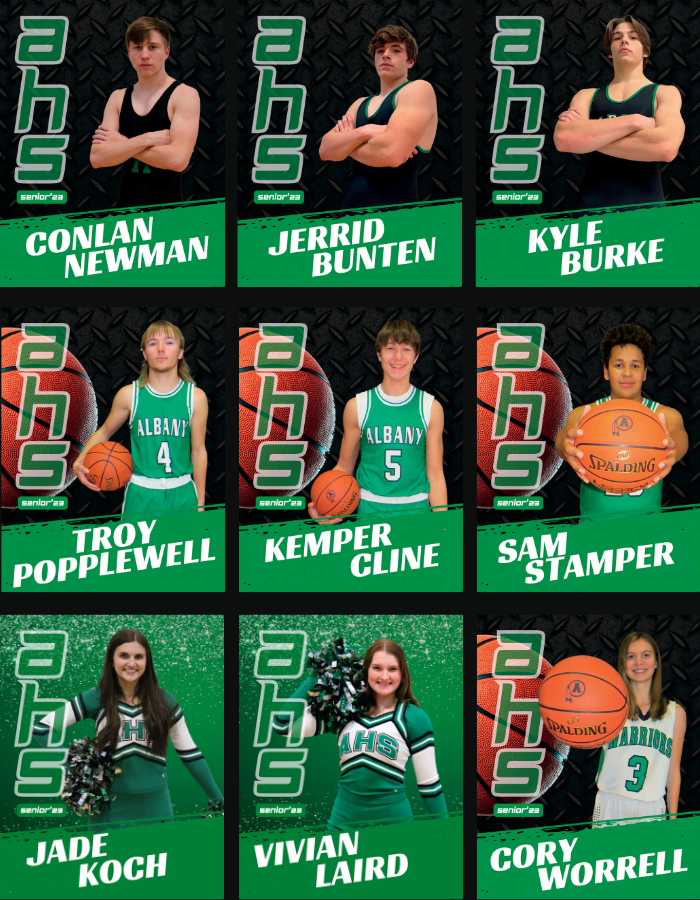 Winter Sports Homecoming Week! 2/1 Wednesday- Wheaties Wednesday. Sports jersey day.

The Albany Elementary and Middle/High school will be participating in a Pennies for Patients fundraiser February 14th through February 24th. We would also love to raise money by raffling off some items or gift cards from local businesses. If your business would like to donate an item or gift card, please reach out to Staci Freeman or Kristyn Carlock. Any donations are appreciated, and we would like to collect them by February 3rd. All proceeds from the fundraiser will go to Kevin O'Halloran and his family as he battles cancer. Thank you!

Albany Winter Sports Homecoming 1/31-2/4: Go Warriors!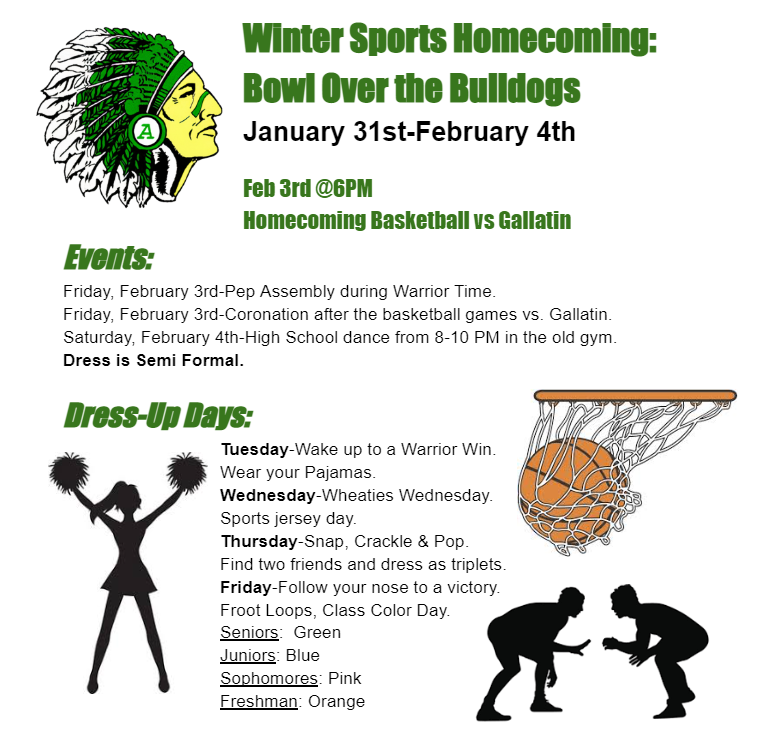 Winter Sports Homecoming Week! 1/31 Tuesday-Wake up to a Warrior Win. Wear your Pajamas.

NEW RECORD ALERT! Congrats to Kemper Cline for breaking the 50 year old single-tournament scoring record for the King City Tournament this evening! #WarriorStrong Photo Credit: Brent Johnson Photography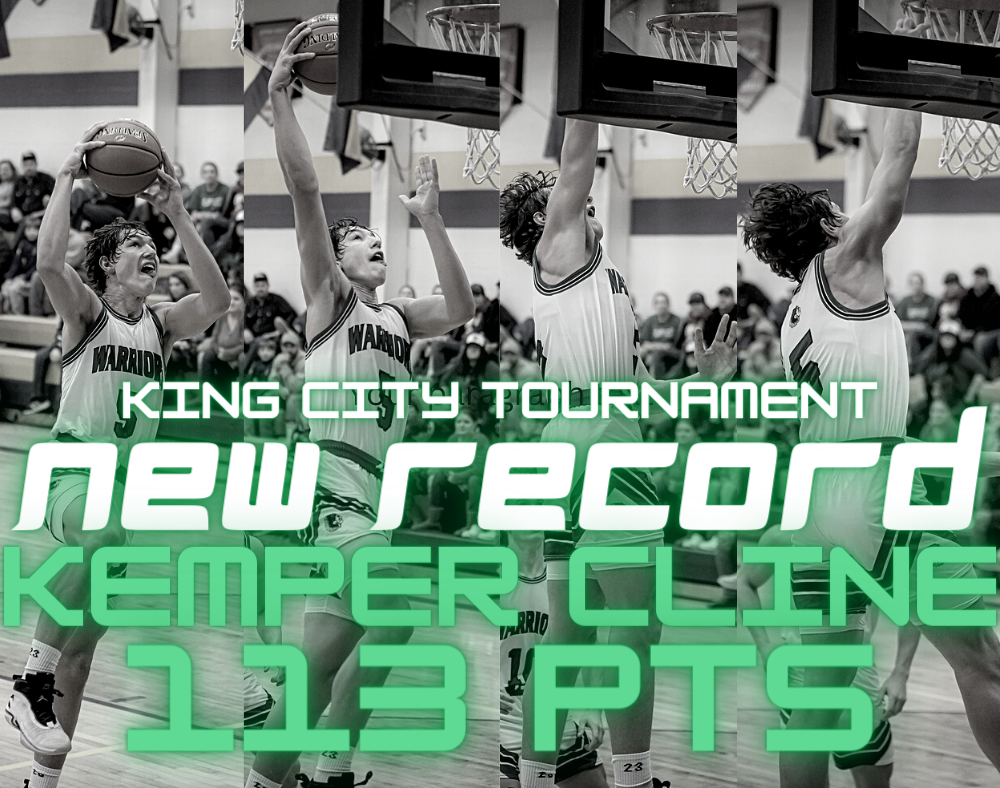 King City Invitational schedule update for tonight. Girls play at 5:00PM. Boys play at 8:00PM. Old Gym.

Best of luck to the boys and girls basketball teams tonight in their King City Tournament consolation games! Please note the change in time for the boys game. A-L-B!!! Credit: Troy Popplewell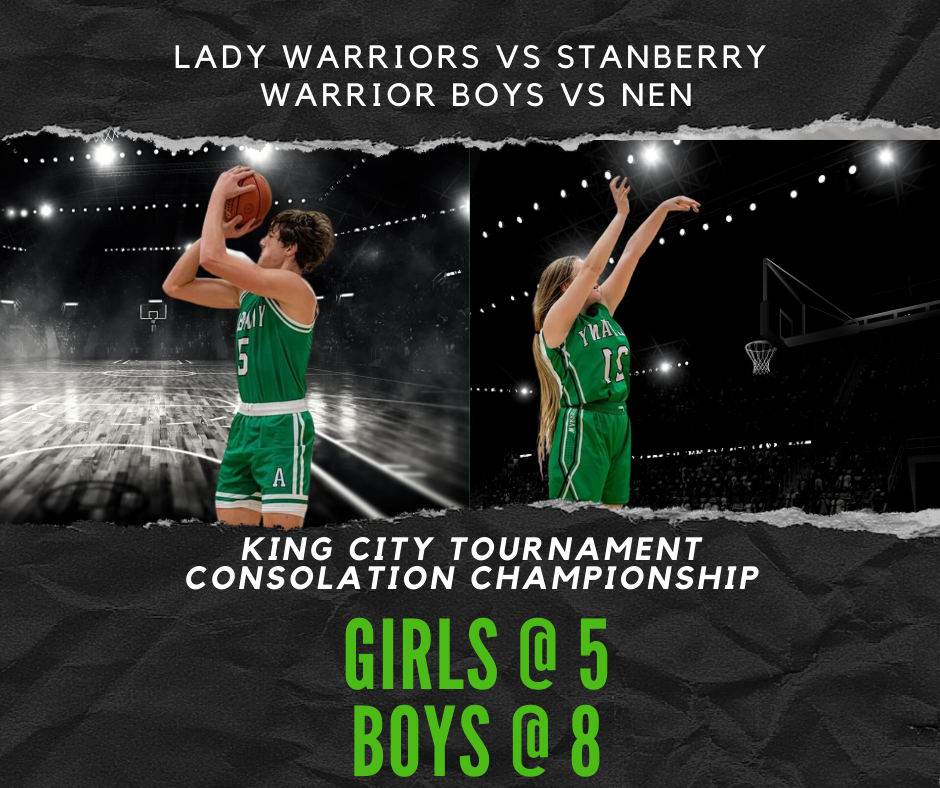 Good luck to our Warrior wrestlers as they head to the GRC Tournament Saturday morning. The action starts @ 9:30 in Bethany. GO, WARRIORS!!! Credit: Bryce Martin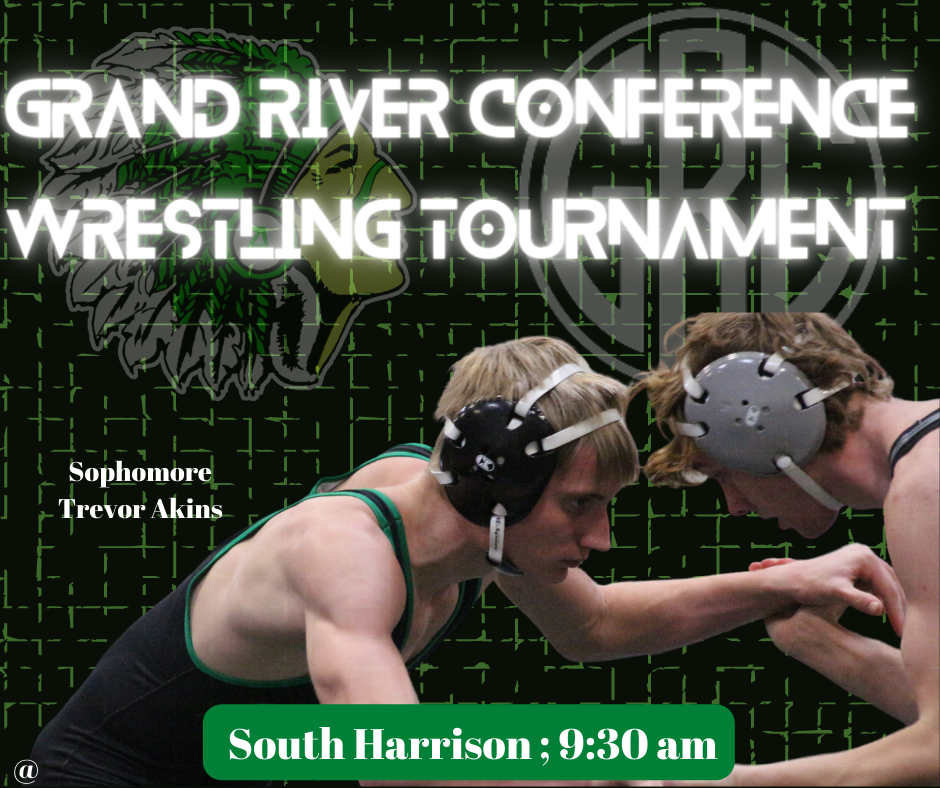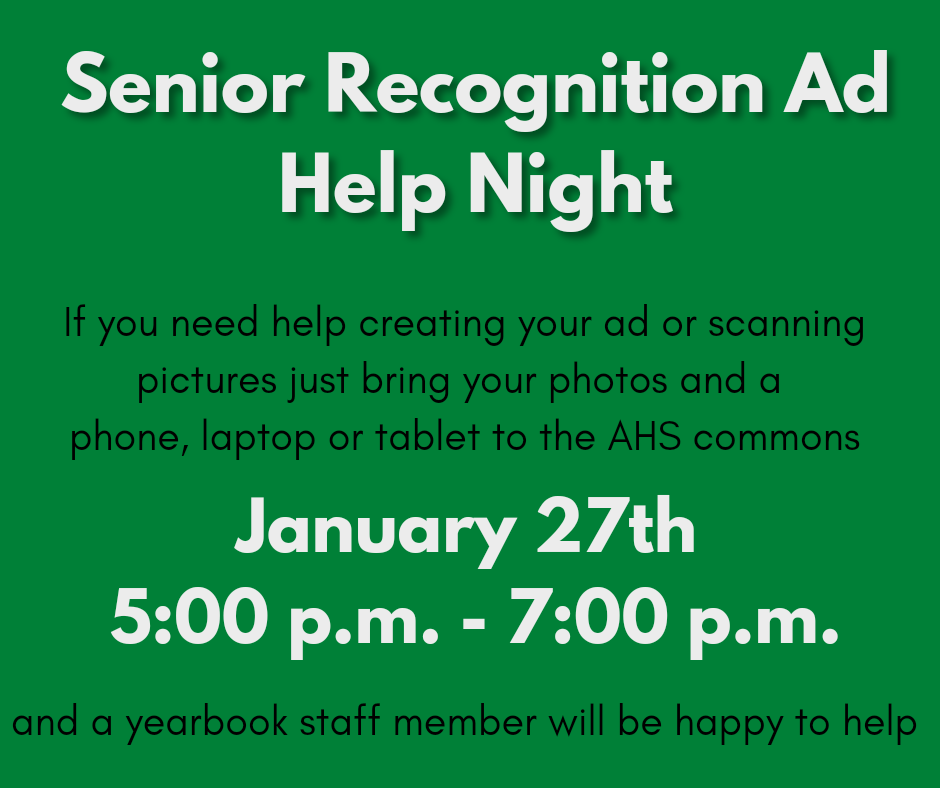 Both teams picked up dubs last night in the King City tournament! Congrats to Kemper Cline and Jenna Smith for being selected as the Winner's Circle-North Players of the Game! #WarriorStrong Credit: Xochitl Valderrama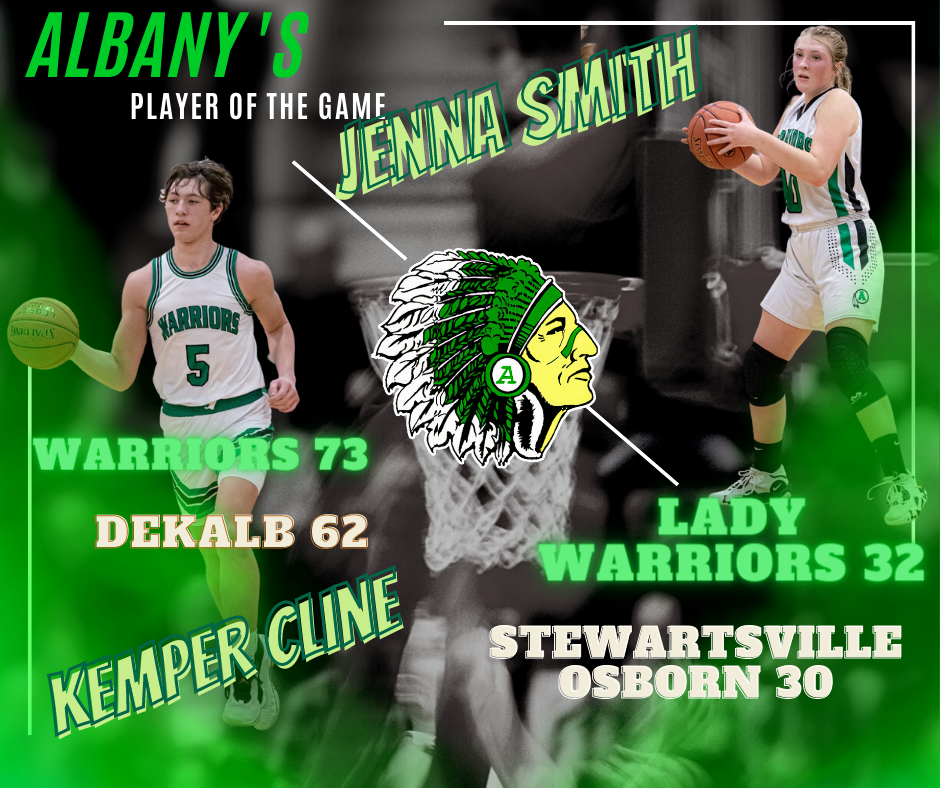 The boys face the Dekalb Tigers tonight in the King City Tournament. Game time is scheduled for 5:30 in the old gymnasium. LET'S GO WARRIORS!!!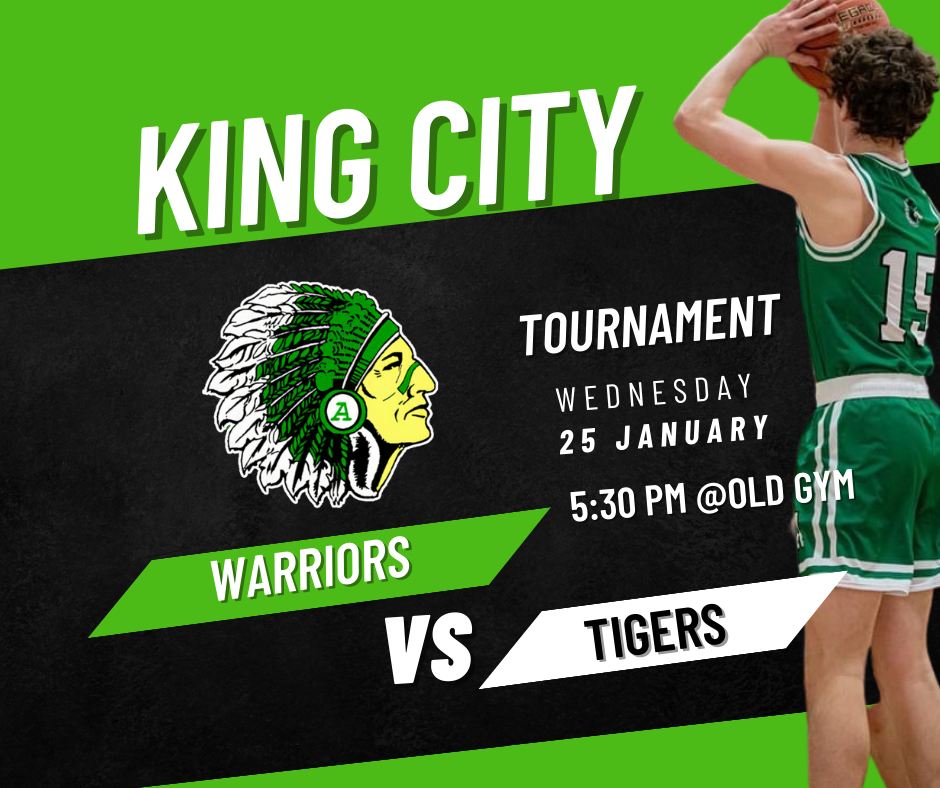 The Lady Warriors hit the hardwood tonight against the Wildcards in King City Tournament Action. Tip-off at 4:30. GO WARRIORS!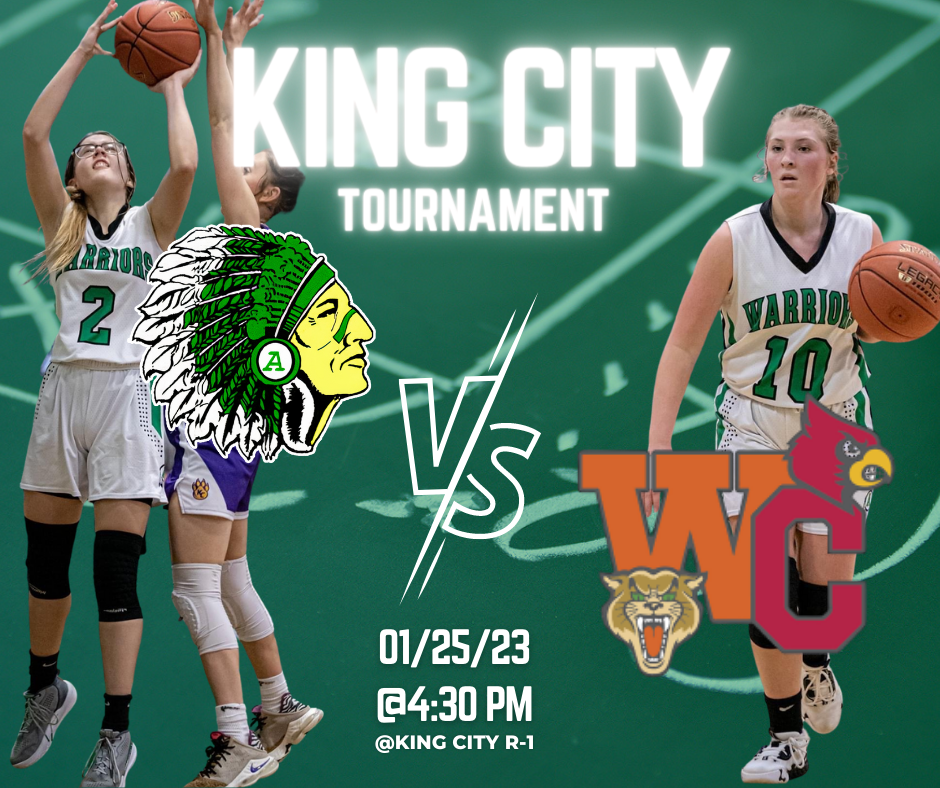 The Albany R-III School District is accepting applications for a 4th grade teacher for the 2023-2024 school year. Interested candidates must possess current Missouri certification in Elementary 1-6 or have the ability to obtain certification. An application may be obtained by visiting our website,
www.albany.k12.mo.us
, under employment. If you have any questions, please contact Julie Slagle at (660) 726-3911. Please share! Thank you!